Featured sites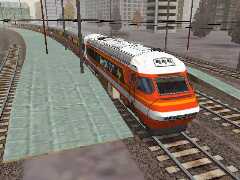 InterCity XPT, in the candy livery, stands at its departing station. The XPT celebrates 20 years in service in 2002.
Before you begin any loco or rolling stock downloads from Train-Sim.com, there are a couple of excellent demos to install from other sites. Once you've got these, you'll be able to download others of a similar type and re-use the protypical cabview and sounds (the technical term you'll come across for this method is "aliasing" - more about it later).
As a general rule, web•Wiz decides what to download and add to MSTS by looking for a loco that has its own cabview and sounds. Not much point in driving a loco that may look different from the outside but uses another loco's engine characteristics and cabview!
For passenger coaches, there are cases where a design is so good that there's no choice but to download! An example is the VIA passenger set with the dome car or the Chesapeake & Ohio set with the observation car.
When you get to downloading activities, the challenge of completing the activity will over-ride the fact you may have to download extra rolling stock, regardless of download time and disk space.
There's a special page to talk about downloads from Train-Sim.com because there are so many choices, whether rolling stock, routes, activities or tools. Here are the sites which may only have one or two worthwhile choices - they're covered in more detail below:
web•Wiz, you'll see, is biased towards diesel locos - there's nothing like the sound of an EMD V-16 turbocharged 2-stroke pounding the sub-woofer! If your interest is steam (UK, Europe or USA) or UK or European locos and rolling stock, you'll find plenty to whet your appetite at the sites listed.
3DTrain Stuff
Train Artisan
Australian Add-ons at Steam4Me
Maple Leaf
UK Train Sim
3D Train Stuff
An SD70MAC heading a consist of Boeing freight cars of 777 fuselages leaves the shunting yard.
3DTrain Stuff: SD70MAC loco (7.5Mb download; there's no consist so use ConBuilder); Dash 9's in CSX, Santa Fe, Amtrak liveries (each about 1.4Mb download); NEC CSX K-train activity
Train Artisan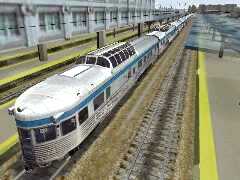 VIA passenger cars, headed by VIA F7A-B-B-A locos, stand at Washington platform 14.
Train Artisan: VIA F7 loco set, VIA passenger car set (includes observation & refreshment car; 12.5Mb download)
Recently announced, and available to all towards end of March: RS11 Budd Rail car set, CWAC60 locos (including one in BHP livery).
From 04-Apr-02, the following have been made publicly available:
MSTS_D_US_SD70_011124.zip (24-Nov-01, 14.5Mb): SD70s and an SD75
TrainArtisan_SD70_update011212.zip (12-Dec-01, 3.9Mb): update to above (modifies the loco ENGine files)
TrainArtisan_CWAC60_02030411.zip (03-Apr-02, 6.3Mb): GE AC6000 set, including one in BHP livery (the AC6000 is currently the most powerful diesel-electric loco)
Steam4Me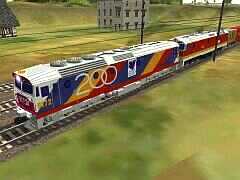 NSW Class 81 in Olympic 2002 livery and helper lead a Superfreighter.
Australian Add-ons: National Rail NR locos, NSW XPT (candy livery), Garrett steam, V/Line S-class (use Train Artisan's cabview), NSW Class 81 and 82, freight wagons
Dekosoft
Southern Pacific SD45T-2 No. 6801 departs Glacier park with a consignment of Boeing 737 fuselages and parts.
Dekosoft Trains: Southern Pacific SD45T-2 No. 6801 (with own sound); other SD45 models; more to be released (as of 01-Mar-02)
Other sites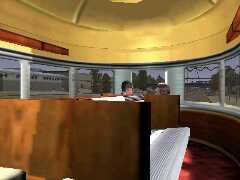 Passengers enjoying the refreshments provided in the observation car.
---
web•Train Sim
web•Directory