Downloads from Train-Sim.com
GG1 electric locos were introduced on NEC in the late 1930's. Here Conrail 4800 leaves Baltimore on a heritage excursion.
A reminder of what preparations you should have made:
Create a new folder in which downloaded files will be stored (call it something like Downloads).
Create a new folder under this folder to which zipped files will be extracted (after use, these unzipped files can be deleted); call this folder something like unziptemp.
Have WinZip installed (preferably version 8) and familiarise yourself with what it does if you haven't used it previously to any great extent. Check WinZip's help to see what the "Use file folders" option in the Extract dialogue box does.
Make sure your virus checker is up-to-date.
Start (Windows) Explorer and wind your way down the Program Files folder tree to Microsoft Games, Train Simulator, Trains, Trainset. Then choose, say the Dash9 folder, open it to see that it has cabview and sounds subfolders.
You should now see that the full path to locos, carriages and freight wagons is Program Files\Microsoft Games\Train Simulator\Trains\Trainset\. This comes in handy when you're extracting/unzipping files from a downloaded zip file.
The files listed below are the latest versions - that's why web•Wiz has included the date. Sometimes when you're browsing the Files List, you'll see earlier versions. Often, for example, new releases will be finally re-packaged so the zip file contains its own installer to make things easier.
---
Tools
GG1 Conrail 4800's fireman observes the latest in electric train sets, an Amtrak Acela Express on NEC.
It's worth repeating, but the most helpful tool for MSTS is Carlos Gomes' ConBuilder. Use the search facility at Train-Sim since Carlos is continually updating ConBuilder and the file name will change.
Also search Train-Sim for the tsunpacker fix - it's a smalll file but, after running, gets Windows to behave itself by making the correct association between the Activity Unpacker and packed files.
---
Aliased sounds & cabviews
CSX lease some time from BNSF over Marias Pass to freight Boeing parts, 737 fuselages and tail pieces from Kansas to Seattle.
The following downloads will help you save disk space by enabling you to use the same cabview and sounds for similar locos. Basically aliasing involves editing cabview (CVF) files and sound (SMS) files so all the necessary graphics and wave sound files can be found when required by MSTS. Then the only edit that's finally required is the loco's ENGine file so refer to a particular cabview file and sound files stored in common folders (Common.Cab and Common.Snd).
web•Wiz will be covering aliasing in more detail, but here's an example of what was done to alias the SD60M cab and sounds so they're available for any other SD60 in the future.
Here are some downloads that essential, even if you're not sure what this aliasing thing is all about. Browse through the "readme" files for each download and you'll start picking up the idea. As well, after installation of the packages below, start WordPad and open a couple of the files in Common.Cab and Common.Snd to see all that these files contain the full path to the folder where various graphics (ACE) files and sound (WAV) files reside on your hard drive as part of a normal installation of MSTS.
Cab Alias: cabalias.zip (30Kb, 25-Nov-01) - when extracted, you'll have a Common.Cab folder containing sub-folders of alias cabview (CVF) files for various locos; you can then add sub-folders for other alias cabviews. Remember to extract to C:\Program Files\Microsoft Games\Train Simulator\Trains\Trainset\ in the "Extract to:" input box and check the "Use folder names" in the bottom left of the Extract dialogue box.
EMD loco sounds (a repackaging, with installer, of SD40 sounds in an earlier download): emd40snd.zip (2.6Mb, 17-Nov-01). Will create a folder called Common.Snd, with a subfolder for the EMD sounds. Now you can add your own subfolders of aliased sounds for other locos.
GP40 loco sounds (a repackaging of earlier packages): gp40_snd.zip (3.2Mb, 22-Jan-02).
BR class 37, 47 & Deltic sounds: brsounds.zip (21-Aug-01, 350Kb). Although not packaged for direct extraction to Common.Snd, think about how many of this class of loco you may download (it might prove to be one your favourites!) and consider storing these sounds in Common.Snd. You may have to do some editing of the SMS files but we all start somewhere, sometime, with a practical aliasing activity.
BR Class 37 cabview: cl37cab.zip (1.2Mb, 23-Oct-01). Another candidate for Common.Cab and some practical use of editing the cabview (CVF) file to achieve aliasing for other similar locos.
EMD switcher/shunters cabs: emd_swch.zip (15-Feb-02, 6.2Mb). Just extract, virus check and run the installer to put this cabview into Common.Cab then it's available for all switchrs/shunters such as the SW1200 and SW1500 series.
Intercity 125/HST Class 43 sounds V1 full: cl43sfx.zip (4.3Mb, 13-Feb-02). These sounds add realism with lots of wind noise. They're worth putting in Common.Snd so they're easily available for the NSW XPT model.
GP38-2 cabview: gp38bsig.zip (860Kb, 01-Mar-02). The author had earlier versions so ignore those - this is the one that works. The author gives instruction on how to alias according to his ideas, but it's better to keep with those of NALW and web

•

Wiz!. So create a new sub-folder under Common.Cab called GP382 and extract the files to this new folder. You already have a GP38 sub-folder if you've installed Cabalias so that's why this new one is GP382. This new cabview adds an aspect and digital speedo. You'll have to edit the CVF to make it do its job properly.
Alco S4 sounds: s4sound.zip (1.1Mb, 27-Nov-01). web

•

Wiz hasn't got this one but it would go into Common.Snd and any edits to the SMS files would be made since there are several Alco locos that could use these sounds.
Cabview for BB7200 - 15000 models: bb7200.zip (550Kb, 11-Feb-02). The BB series of SNCF (French railways) are popular. A candidate for Common.Cab. web

•

Wiz has done so and uses the cabview in a BB15000.
---
Locomotives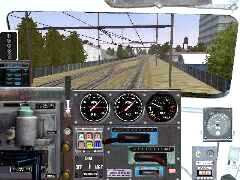 An E60C engineer's view, bringing his charge up to speed as it departs Wilmington on the NEC.
web•Wiz's criterion for choosing which downloads usually focuses on whether the loco has a unique cabview and, possibly, sounds (the latter is not always possible). Sometimes, though, an interesting activity catches the eye and this activity may requir non-default locos and rolling stock, so they're downloaded.
The following list is not exhaustive and it's roughly in alphabetical order, with some comments about installation or particular features or historical significance. Direct links to the download page is not possible since Train-Sim.com's library increases daily. As long as you have the file names, you can use Train-Sim's file search to get to the download file, brief description and view the author's "readme".
U.S.
Amtrak E60C electric: e60c_42.zip (6Mb, 22-Jan-02)
Amtrak F40PH: f40pham2.zip (2.6Mb, 01-Feb-02) & f40pham3.zip (400Kb, 10-Feb-02); custom cabview: f40cb10.zip (3.9Mb, 09-Feb-02) - superceded by the NALW F40 set: f40_set1.zip (13Mb, 11-Mar-02) and update, f40_pat1.zip (680kb, 12-Mar-02)
Amtrak F45 diesel-electric: amtf45.zip (690Kb, 22-Dec-01); a custom cabview is contained in f45cab.zip (3.3Mb, 05-Nov-01) & f45v11.zip (502Kb, 26-Dec-01) which is a fix for the left-hand view. Note the installer in f45cab has the incorrect driver letter (D:) for the default path for MSTS - replace it with C:. You can now use this cabview for your F40PH rather than the GP38's (yuk).
AMD103 Amtrak P42 Phase III: p42amtk3.zip (1.5Mb, 19-Jun-01) - a variation on the default Amtrak Genesis (doesn't interfere with the installed default); use p42v2_5.zip, below, with this loco so you've got an authentic cab - superceded by the gen_paks and opt_pak.
Amtrak Genesis cab for default MSTS Genesis: p42v2_5.zip (4.5Mb, 22-Jan-02) - superceded by the opt_pak.zip
Amtrak Phase III, IV, V P42 loco set: p42aset.zip (1.7Mb, 04-Feb-02) - use p42v2_5.zip for the cabview - superceded by the gen_paks
Big Blow Turbines (Santa Fe 10,000hp): bblw_v12.zip (6.2Mb, 04-Jan-02) - a must-have, just to hear the sound and see the exhaust smoke; note it has its own fuel trailer!
Genesis P40 Phase III & Genesis P42 Phase III, IV, V: gen_pak1.zip (15.7Mb, 26-Mar-02), gen_pak2.zip (3.4Mb, 26-Mar-02; requires gen_pak1)
Genesis P32AC-DM in Amtrak, New Haven/ConnDOT liveries (both diesel & electric 3rd rail versions): gen_pak3.zip (10Mb, 28-Mar-02)
ph3super.zip (3.4Mb, 04-Feb-02) is a set of matching Phase III Superliner coaches for the Amtrak Genesis locos
GG1 Megadownload - this famous electric loco comes in a number of different liveries, all well-known: gg1_mega.zip (13.6Mb, 28-Jan-02) (NOTE: there's a "rogue" consist in the download and MSTS may get upset when it starts because it can't find some rolling stock; use ConBuilder and/or Explorer to find the con file and delete it (sorry, can't remember the consist's name; look in Train-Sim.com's message board, though, because web

•

Wiz posted a message about this problem)
New Haven Alco PA loco pack (12 locos, 6 NH colours): nhpa_pak.zip (10.4Mb, 17-Mar-02) - another excellent piece of work by the NALW team
New Haven EP5 electric, with Merchant Limited passenger cars: ep5.zip (6.6Mb, 26-Dec-01; custom cab & sounds) & ep5_up11.zip (6.6Mb, 28-Jan-02)
SPSF Kodachrome C30-7 #8061: sf_8061.zip (5.4Mb, 25-Mar-02) - also download dash7cab.zip (4.1Mb, 04-Feb-02), a Dash 7 cab, to complete this loco.
Texas West SD40s & SD70MACs: tw3xxx.zip (640Kb, 16-Mar-02), tw9xxx.zip (1.4Mb, 16-Mar-02)
British Rail
HST Intercity Class 43, the fastest diesel loco in the world (top speed of 145mph) and celebrating its 25th year in service in 2002: brcl43.zip (4.5Mb, 21-Jan-02) - has its own cabview (which you can alias to the NSW Country XPT set). Note that you must have the authentic sounds, too: cl43sfx.zip (4.2Mb, 13-Feb-02) - turn up everything louder than everything else & give earplugs to others at home!
Class 37 loco, cab & sounds (compulsory): 37065.zip (1.7Mb, 20-Feb-02;) - excellent model by James Hunt; or 37604.zip (1.4Mb, 20-Feb-02) - both by James Hunt; cabview: cl37cab.zip (1.2Mb, 23-Oct-01); sounds: cl37snd.zip (3.4Mb, 28-Feb-02; an update of Aug 2001 version - these are The Ultimate Class 37 Sounds!) - you must have the sounds!
Class A4 steam locos: 449xv1.zip (2.7Mb, 18-Feb-02) - 2 A4 locos: Commonwealth of Australia, Dominion of New Zealand. In week ending Sat 16-Mar-02, many more A4s have been added to the library (e.g., Sir Charles Newton, Sir Ronald Matthews, etc.).
LNER B1 Mayflower #1306 steam loco: 1306v2.zip (1.4Mb, 24-Mar-02) - more excellent work by Peter Harvey
LNER Coronation Passenger Car sets: coro171x.zip (1.6Mb, 18-Feb-02; black roof) and coro172x.zip (1.6Mb, 18-Feb-02; white roof)
French, Dutch
Dutch NSBuffel diesel multiple unit: nsbuffel.zip (1.8Mb, 10-Mar-02)
SNCF BB12000: b12000.zip (4.4Mb, 09-Mar-02) - this is worth the download just to see the detail that its designer has put into the cabview; it's a well-worked loco!
SNCF GC Trans European Express passenger cars: gdconfor.zip (1.4Mb, 10-Dec-01) - 1st, 2nd class "Grand Comfort" cars; includes a passenger view.
TGV (3rd generation model): thalys.zip (3.5Mb, 26-Jun-01); TGV cab tgvcab.zip (431Kb, 19-Dec-01)
SNCB-NMBS HLE 1304 fast electric loco: hle_132.zip (2.1Mb, 13-Mar-02)
Japanese Rail
Kiha 40 diesel car & cab (of same family as default Kiha 140): kiha40_t.zip (2.5Mb, 25-Mar-02)
You'll see web•Wiz's current bias is towards diesel-electric locos - he'll have to change! Of course, Train-Sim.com has an extensive range of steam locos.
---
Rolling stock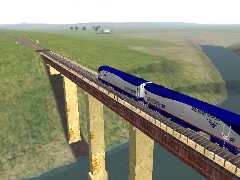 The leading Genesis locos of an Amtrak Mail & Express not far outside Browning on its way west over Marias Pass.
There are enough choices for rolling stock, both passenger and freight, to satisfy everybody's interests. web•Wiz just wanted to satisfy his curiousity in most cases from reading in magazines about some of the more famous U.S. consists. For example: the Amtrak Empire Builder, the VIA dome coaches, Amtrak's RoadRailer fleet, Amtrak's Superliner coaches, the Boeing freight wagons (cars). Often, to complement a loco, you'll need to download particular cars to form a realistic consist.
In other cases, various passenger cars (yes, web•Wiz knows we Australians call them "carriages") and wagons have been required by an activity that web•Wiz has found to hard too resist giving a try. So browse the different sections at Train-Sim and see what you like.
---
Routes & activities
A special VIA excursion across Marias Pass rolls over the Medivale Creek Trestle.
There'll soon be a more comprehensive coverage of routes and activies on separate pages but for the present, carefully do a "View" on a particular route or activity you're interested in. For any activity, check what rolling stock is used - if it's only "default" (i.e., what was installed as a normal installation of MSTS) you're pretty safe.
There a couple of routes that appear as they may not consume much disk space - don't be fooled! They copy files from the normally installed routes and end up taking as much disk space as the default ones. Here's what web•Wiz has downloaded and installed, and more importantly, why:
Modern England V3: modernen.zip (Modern England V2, 5.8Mb, 06-Oct-01) and modeng3.zip (12.5Mb, 27-Nov-01). You need to install Modern England V2 firstly (it's got its own installer in the zip), then install the update in modeng3. Note that James Hunt, the author, has included a range of default rolling stock for this route and, unless you download and install it all, you won't be able to run any activities for this route. If you want to see what extra rolling stock is required, do a search at the Train-Sim message area - hopefully the list will be posted here soon! This route is electrified and has modern signalling equipment (in contrast to the Settle & Carlisle default route). As an aside, the grades and scenery in general fit in with some parts of Australian railways, e.g., out of Melbourne to Bendigo or Seymour.
Marias Pass 3: mp30.zip (14.9Mb, 25-Dec-01). This is a must if you like travelling and working the Marias Pass. The "roller-coaster" nature of the default is removed, mileposts are correctly placed and signalling is improved. As well, scenery and objects are enhanced. Note that the packaged activities in this zip won't work! Download mp3act2.zip (212Kb, 28-Dec-01) and extract those you want to try. You'll find later MP3 activities as well at Train-Sim.
NEC 2: nec_v20.zip (11.5Mb, 28-Sep-01). This is a more realistic representation of the Northeast Corridor. Signalling is improved, mileposts are placed correctly, there are more stations, and there are fixes to the overhead catenary. There are only a couple of activities in the download but the "default" NEC activities will work. When you load one of the "old" activities, just click "OK" to the message telling you the activity should be re-saved in the Activity Editor and MSTS continues normally. Be aware an activity built for the default NEC will have some signals and platforms placed differently than in NEC2.
For other routes, and those above, too, it's best to look through the comments at the Train-Sim message area to get an idea of any problems or quirks for each. There are many other routes, including European, and those creating them deserve our praise for their work in their own time.
---
Roster
web•Directory