Background info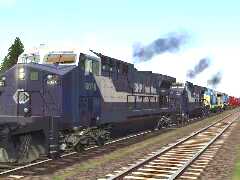 BHP Iron Ore's AC6000CW leads three other AC6000CWs at the head of 1.6 km of 12,000 tons of coal.
Below are snippets of information about various railways of the different countries in which the default MSTS routes exist. These snippets hopefully will make clearer how these countries' railways work so you can more fully enjoy MSTS.
---
Marias Pass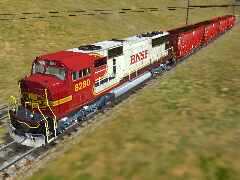 BNSF SD75M in red-silver livery.
Marias Pass, being in Montana, is the northern-most pass in the U.S. for rail traffic across the Continental Divide in the Rockie Mountains. Shelby isn't that far from the the town of Sweet Grass on the Canadian border; Sweet Grass may be in your list of destinations for Marias Pass activities. U.S. Highway 2, from Chicago to Seattle, runs alongside the Marias Pass track at certain points, particularly at Summit.
If you've downloaded any of the BNSF documents from the BNSF Training Centre, you'll find the Marias Pass section referred to as the Hi Line by BNSF in its Montana division.
In the south of the U.S., Union Pacific's Sunset Route is the lowest pass at 4584 feet (1397 metres) but it's traffic is not that great because it connects Houston with Los Angeles. In contrast, UP's Overland Route (7107 feet, 2166 metres) and BNSF's Campbell Pass Route (7244 feet, 2207 metres) connect to Oakland and Los Angeles respectively to the west and Chicago to the east.
Amtrak, the federal government-owned national passenger train body, has its own tracks, such as the Northeast Corridor, but has trackage rights on other railway company's tracks, such as BNSF's Marias Pass route. The Amtrak Empire Builder is the Chicago-Seattle service across Marias Pass. The Empire Builder was originally a Great Northern train before mergers, acquisitions and buy-outs.
The westward Amtrak Empire Builder is Amtrak Train 7. It departs Chicago daily at 1410 and after 1,475 miles (2,374 km) reaches Shelby next day at 1722. Next stop is Cutbank at 1752, Browning at 1825, (East) Glacier Park 1848, Essex 1944, West Glacier (Belton) 2020 and Whitefish at 2116. Browning station re-opens in October 2002.
After Whitefish, the Empire Builder stops at Sandpoint in Idaho at 2349. Then it's on to Spokane, arriving at 0140 and departing at 0215. Sandpoint and Spokane are both busy rail centres, with Union Pacific having its own secondary line from Eastport on the Canadian border paralleling the BNSF track.
At Spokane the Empire Builder splits, and Amtrak Train 8 continues southwest to Pasco and takes the easy route (compared to crossing the Cascade Range) along the Columbia River gorge to Portland, Oregon. Passengers can then connect with the Amtrak Cascades Corridor services to Eugene, Oregon, or go north to Vancouver, WA, and Seattle, WA. BNSF heavy freights to Seattle also use this easier route along the Columbia River gorge to Vancouver, WA, head north to Tacoma, and finally, Seattle.
From Spokane, Train 7 continues westward, heading for Stevens Pass across the Cascade Range. The train reaches Wenatchee at 0543. At Berne, dispatches check that all trains can re-start on the grade if need be. Then it's across Stephens Pass (4061 feet, 1238 metres) through the Cascade Tunnel (7.79 miles, 12.5 kilometres long, at 2881 feet, 878 metres). Then it's downhill to Everett to arrive at 0843 and the Empire Builder pulls up in Seattle at 1020 after travelling 2210 miles (3557 km) from Chicago.
For geographers, the Cascade Range causes about 80 inches of rain in the east but only drops about 10 inches on the other side in the west.
Amtrak Train 8 is the eastwards Empire Builder, departing Seattle daily at 1645. It arrives at Whitefish next morning at 0746, West Glacier (Belton) 0816, Essex/Izaak Walton Inn 0855, (East) Glacier Park 0954 after the big climb up Java, Cutbank 1045, and Shelby 1120. Note that the Browning station re-opens in October 2002.
On its own tracks, Amtrak often has a passenger train of 4 or 5 coaches added to by as many as 20 or 30 RoadRailers or mail and express cars. Otherwise, when not on its own tracks, federal regulations limit an Amtrak train to six passenger cars. Presumably, the Empire Builder is different because of the need to have sleepers and a diner.
The general U.S. passenger train speed limit is 79 mph and freight 60 mph. However, Amtrak Genesis P42 locos are capable of 110 mph and often travel at 90 mph where work rules allow. For this reason, Amtrak supplement their passenger income by hauling RoadRailers and/or mail and express cars on the rear of the Superliner passenger coaches. On east-west trains, Amtrak also hauls refrigerated express boxcars containing fresh fruit products.
---
Northeast Corridor
European TGV or Thalys high-speed trainset. The Amtrak Acela Express is derived from the TGV.
If you were to find a good vantage point along the NEC, here are some of the trains you'd likely see:
Acela Express sets, of course;
HHP-8s at the head of local passenger services;
the older, but not yet retired, E60Cs hauling longer-distance passenger services;
AEM-7s at the head of passenger services;
CSX freights at off-peak passenger times.
Besides its passengers services, Amtrak also has contracts with the U.S. postal service for mail delivery. So you'd also see mail and express boxcars behind AEM7s.
---
U.S. rail system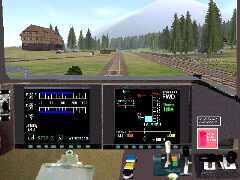 Rolling into Essex. Izaak Walton Inn on the left, platform on the right. Hauling a 12,000 ton coal load, the SD90MAC, with three front helpers and two SD70s at the rear, has used 300 gallons since departing Whitefish.
In your reading you may come across a railway being designated as Class I. There are about 7,000 Class I railways in the U.S. and they're classified as such because their annual revenue exceeds $5 million (US dollars). These Class I railway companies own and operate approximately 180,000 miles (290,000 km) of rail track.
The Big Four are Burlington Northern Santa Fe (BNSF), Union Pacific (UP), Norfolk Southern (NS) and CSX Transportation (CSX). Along with Canadian National (CN) and Canadian Pacific (CP), who have access to the U.S., these are the largest railway companies in North America.
With so many rail companies, past and present, it's easy to understand why there are so many different liveries of the same loco and rolling stock available from download sites such as Train-Sim.com.
Two U.S. companies, RailAmerica and Genesee & Wyoming Inc. (based in Greenwich, Conn.), have investments in Australian freight rail comapnies. RailAmerica is North America's largest operator of short lines: 47 railways covering 13,200 miles.
---
Australian rail system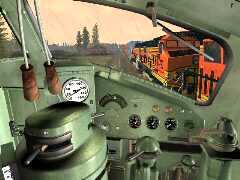 Our Santa Fe F7, in the famous war bonnet livery, meets a modern Dash 9 at Glacier Park during a special historical excursion.
Before Federation in 1901, each state began building its own tracks but each decided on different gauges. It wasn't until the early 1960s that Melbourne and Sydney were connected by a standard gauge track (4 feet 8½ inches). NSW has built its tracks to the standard guage while Victoria has built its railways to the 5 feet 2 inches guage. Other states, such as Queensland and Western Australia, has built to a 3 feet 6 inches gauge.
The Federal Government have never really seen the importance of rail networks, particularly on a national level, and it's probably been more good luck that a national freight system still exists. In February (2002), the National Rail and N.S.W. FreightCorp groups were sold to a private consortium which will run the operation under the name of Pacific National.
Many miles of track were ripped up or lines were closed in the economic rationalist period of the 70s, 80s and 90s. In Victoria, the state-owned public transport system was sold to private companies, principally U.K. companies.
In relation to public transport, it will be interesting to see how much governments learn from overseas. In the U.S., for example, there's no point any longer in building new highways and freeways - apart from no space and the huge cost. People have now reached the point of frustration with car travel and are looking to rail to be able to move around.
---
Eurostar fleet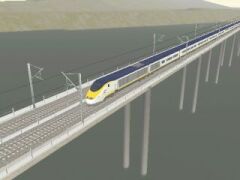 Eurostar crossing the Viaduct de Cavaillon on the LGV Med route.
At design time, the three partners (Eurostar UK Ltd, SNCF and SNCB) of the Eurostar service decided on 18-car 770-passenger trainsets for the Three Cities service and 14-car 558-passenger trainsets for Regional Eurostar.
Thirty-eight trains were built - 31 Three Capitals and 7 Regionals. All sets are equipped to operate under 25kV AC, 3kV DC and 750V DC third-rail. The latter is used in southern England, 3kV on Belgian classic lines, and the 25kV AC on French and Belgian high-speed lines, the Chunnel and the Channel Tunnel Rail Link (the first stage of which becomes operational in September 2003).
Sixteen of the 31 Three Capital trainsets are owned by SNCF. Nine of these are quadri-voltage, being equipped to run under 1.5kV DC on the French system where thus supplied and in the Netherlands. Four of these quadri-voltage Eurostar trainsets are in SNCF livery.
Of the seven Regional sets, 3 are on hire to GNER and carry the GNER livery. Two are on standby and the remaining two will be used for testing of the CTRL.
Sixteen return services run London-Paris daily, with more in summer. There are eight return services between London and Brussels daily. The London-Paris service holds a 65% share of the passenger rail and air market, 7.469 million passengers having travelled in 2001.
Current travel time for the non-stop journey from Waterloo International to Paris Nord is 2hr 54min. The return journey is timed at 2hr 50min. Waterloo International to Brussels Midi 2hr 40min.
Journey times will be reduced by 20 minutes once CTRL stage 1 - 46 miles from the Channel Tunnel to Fawkham Junction - opens. Further time savings will occur once CTRL stage 2 is completed (24 miles from Southfleet to a new international station at St. Pancras).
Although originally developed to serve London-Paris-Brussels, new markets are being considered for Eurostar services. For example, a summer Saturday service runs London-Avignon and plans are underway to connect Eurostar services with the TGV Mediterrainee high-speed route.
Excerpt from Modern Railways July 2002
---