How to...
Click the + to expand a category so you can browse its topics. Then click a topic to access the page. Click - to restore or leave the category expanded for the next time you visit.
Files to install
Firstly, you'll need to have downloaded Auran's free demo...
Installing
We don't need to worry about the early ENG, CVF and sounds...
Getting it all to work
The only task remaining is to edit the DDA40X ENGine file to tell it where its cabview is...
LGV Med
Installation is straight forward, except the batch file may not create the route's Sound sub-folder...
Intro
These are a few ideas on changing your field of view...
What's FOV?
Those familiar with the way in which different focus lengths of cameras...
Suggested changes
The view from the cab is more natural and the coupler view is wide-angled...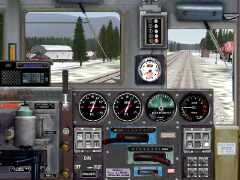 Easing UP C40-8W #9436 into Belton (West Glacier).
---